New compact battery switches save space onboard
November 9, 2009 10:37 am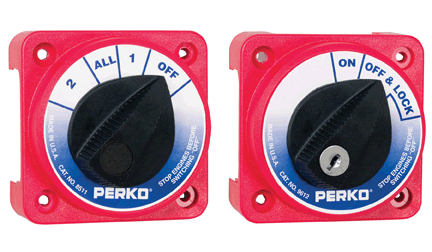 Bridges are often overcrowded with numerous controls, displays and electronics. Saving precious dashboard space, Perko offers a new line of compact, patented Battery Switches.
Ignition protected, these streamlined Battery Switches require 1/3 less area to mount than other switches with the same footprint as the larger models. Available in on/off disconnect and selector versions, they measure just 4-3/4" in diameter and have a depth of only 1-7/8".
With locking and non-locking models, the advanced Battery Switches provide new, smooth rotary action and popular, easy-to-identify 90 degree position rotation. Rated 315 continuous and 450 intermittent, they are designed for use with 12, 24 and 32V marine electrical systems.
Simple to install, these sleek new Battery Switches from Perko have a suggested retail price under $50.00.
Perko has manufactured superior marine lights, hardware and other accessories for over 100 years. To meet upcoming EPA regulations, the company also offers state-of-the-art evaporative emissions control systems, including canisters, fuel system valves, fills, vents and caps.