New heavy-duty water strainer simplifies debris removal
September 15, 2009 10:56 am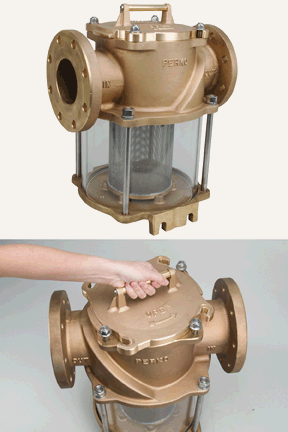 A raw water strainer is a critical component of any engine or generator cooling system. Designed for easy installation, cleaning and maintenance, the new heavy-duty 4" Intake Water Strainer is the latest in Perko's Large Boat Strainer Line.
Built for use in the harsh marine environment, the heavy-duty 4" Intake Water Strainer is constructed of cast bronze. Unlike lock washers that can be dropped and lost, aircraft-style mounting nuts remain secured to the body when the cover is removed. A convenient handle makes it simple to rotate and remove the cover, providing quick access to the strainer basket.
Minimizing electrolysis, the advanced Intake Water Strainer features four stainless steel tie rods and a 6-3/4" x 8-5/8" strainer basket. With screen hole diameters of 0.079", it provides 47% open area, which is among the highest in the industry.
Measuring overall 17-1/2" H x 16-1/2" W and weighing 122 lbs., the dependable strainer has an area to pipe ratio of 10:1. A drain plug in the bottom casting enables easy sediment removal or draining for winterizing. The transparent cylinder provides a visual check for debris.