Perko® Launches NEW LED All-Round Pole Light Meeting C-5 Regulations
December 22, 2022 8:00 am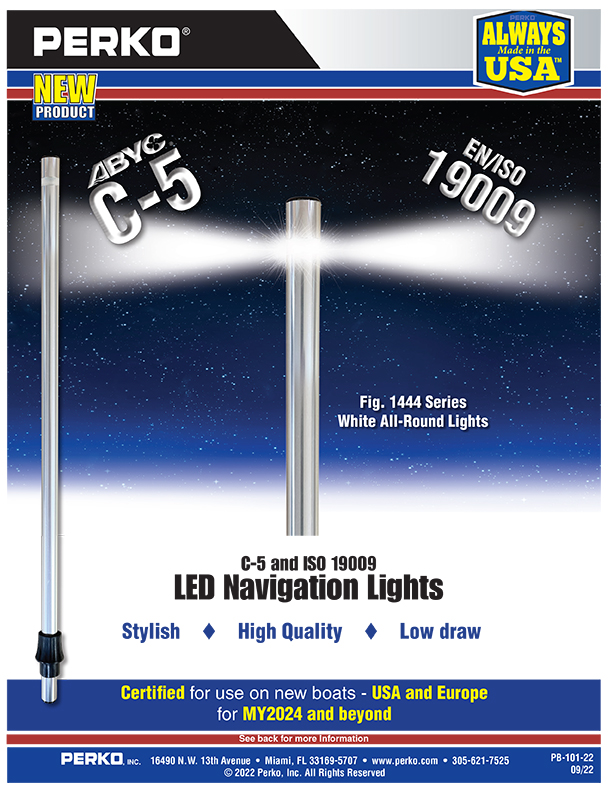 For Immediate Release - Perko recently announced the 2023 order board is open for it's next generation All-Round Pole Light.
The new light presents a sleek design, 2NM visibility compliance, and meets the new C-5 regulations that take effect in 2023. The light provides several benefits such as LED illumination, elimination of the traditional light globe, reduced weight to be more compatible with plastic "fold-down" mounts, and backward compatibility with older PERKO or competitor versions of the standard two (2) pin base.
Reviews of the light have been very positive from engineers, distributors, and end users that have been offered a preview. Benefits and features include:
• Polymer Top and Base with Clear Frosted Lens
• New stylish high-tech design with self contained LED module
• LED optics adjust based on pole mount angles
• Available in standard pole lengths from 24" to 60"
• Fits all Perko® 0° and 5° plug-in mounting bases
• Retail package includes locking and large threaded collars
• Meets Global Specs for: ABYC C-5, NMMA Type Accepted, EN/ISO 19009:2015, ABYC A-16 (2016), 1972 COLREGS, RCD 2013/53/EU, USCG 33 CFR - 2nm
Contact Perko for more information, where to buy, or samples for qualified OEM boat builders.