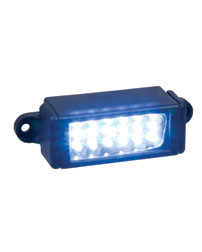 LED Surface Mount Trim Tab Underwater Light
[Fig. No. 0178]
Note: This is a Perko Legacy product.
Perko Legacy products are no longer in regular production. Please contact our sales department for availability.
Product Description
Non-Corrosive Molded Black Polymer Housing
White or Blue LED's
8 Feet of 18 AWG Marine Grade Electrical Cable
Removable brackets can be positioned for horizontal or vertical mounting applications
Trim Tab mounting allows for adjustment of the beam as the tab moves up and down
Mounting riser included in DP Package for use with lipped trim tabs
LED's provide Longer Life, Less Heat and Use 1/10th the Energy of Standard Lights
Technical Information
12 Volt, 7.0W
75 Lumens, 324 C.P. - White
27 Lumens, 207 C.P. - Blue
LED Beam: 15°
Lab Rated LED Life: 50,000 Hrs.
Dimensions: 4-1/8" x 1-5/16" x 1-1/4"
Bolt Size: 8/32 P.H.