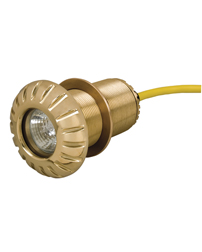 Thru-Hull Mount Underwater Light
[Fig. No. 0174]
Note: This is a Perko Legacy product.
Perko Legacy products are no longer in regular production. Please contact our sales department for availability.
Product Description
Polished or Chrome Plated Bronze with Mounting Ring
Two Bulb Options: 25° Beam Bulb (3000 CB Candle Power) or 40° Beam Bulb (1700 CB Candle Power)
10 Feet of 16/2 Electrical Cable
Safety Seal Design Prevents Water Intrusion in the Event of Glass Breakage
Terminal for Bonding Wire
DP Includes Green & Blue Lens Filters
Ignition Protected
Technical Information
12 Volt, 50W, 4.1 Amps
800 Lumens
Lab Rated Bulb Life: 5000 Hrs (In Accordance with ANSI Standards)
Length Overall: 6-3/4"
Flange Diameter: 3-3/4"
Mounting Hole Diameter: 2-3/8"