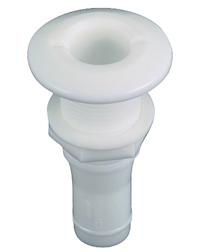 Thru-Hull Connection for use with Hose
[Fig. No. 0328]
Product Description
Molded White or Black Polymer
Broad Flange
Ordering Information
White Plastic
Hose Size Inches
Mounting Hole Dia. Inches
Max. Hull Thickness Inches
O.D. Flange Inches
Dealer Pkg. 10 Pcs.
OEM Bulk Pkg. 100 Pcs.
Ship Wt. Carton Lbs. DP/OEM Bulk
1/2
13/16
1-1/4
1-1/2
0328DP4
0328004
0.9/5.8
5/8
13/16
1-1/4
1-1/2
0328DP4A
032804A
1.0/6.1
3/4
1
1-7/16
1-7/8
0328DP5
0328005
1.3/8.7
1
1-5/16
1-1/2
2-1/4
0328DP6
0328006*
2.0/7.0
1-1/8
1-5/16
1-1/2
2-1/4
0328DP6A
032806A*
2.0/7.0
1-1/2
1-7/8
1-7/8
3
0328DP8
0328008*
3.7/16.0
Black Plastic
Hose Size Inches
Mounting Hole Dia. Inches
Max. Hull Thickness Inches
O.D. Flange Inches
OEM Bulk Pkg. 100 Pcs.
Ship Wt. Carton Lbs. OEM Bulk
1/2
13/16
1-1/4
1-1/2
0328004BLK
5.8
5/8
13/16
1-1/4
1-1/2
032804ABLK
6.1
3/4
1
1-7/16
1-7/8
0328005BLK
9.1
1
1-5/16
1-1/2
2-1/4
0328006BLK*
7.0
1-1/8
1-5/16
1-1/2
2-1/4
032806ABLK*
7.0
1-1/2
1-7/8
2-7/8
3
0328008BLK*
16.0
Instructions & Resources
View Fig. 0328 in our Print Catalog
Product Notes
NOTE: Thru-Hull Connections For Use With Hose Are Not Recommended For Use Below The Waterline Per A.B.Y.C. "Safety Standards For Small Craft" Section H-27.
*Figure Numbers 0328006, 032806A, 0328008, 0328006BLK, 032806ABLK and 032808ABLK OEM Bulk Package Quantity is 50 Pieces
Spare Parts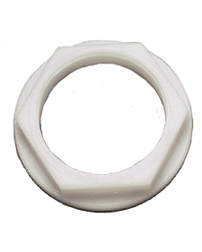 Flanged Nut: 0326
Certifications

Marine UL Listed:
595E Thru-Hull Fitting
Have a Question?
Still have a question about the Figure No. 0328 Thru-Hull Connection for use with Hose that wasn't answered on this page? Contact us!
View Contact Information
Related Products