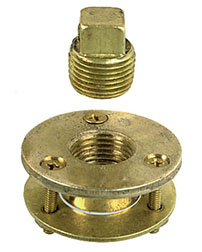 Garboard Drain Plug
[Fig. No. 0737]
Note: This is a Perko Legacy product.
Perko Legacy products are no longer in regular production. Please contact our sales department for availability.
Product Description
Cast Bronze Flange with Brass Plug
Complete with Brass Backing Plate and Fasteners
Technical Information
For Pipe Size: 1/2" NPT
Hull Thickness: 7/16
O.D. Flange: 2"
Screw Size: #8-32
Ordering Information
| Dealer Pkg. 5 Cards 1 Pc. per Card | Ship Wt. Carton Lbs. Dealer Pack |
| --- | --- |
| 0737DP1PLB ( Legacy) | 1.9 |
Instructions & Resources
View Fig. 0737 in our Print Catalog
Still have a question about the
Figure No. 0737 Garboard Drain Plug
that wasn't answered on this page? Contact us!
View Contact Information