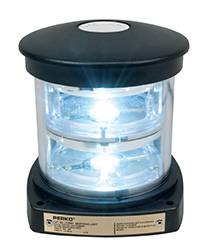 Flex Mount System LED Single Replacement Navigation Lights
[Fig. No. 1478]
Certified For Use on Vessels over 20 Meters (65.6 ft.) in Length
Single lights are also individual replacement lights for the 1487 to 1490 series double stack lights.
Product Description
Black polymer body
Pre-Wired with 3 Feet of 16/3-SO Cable
Translucent color specific insert on top of light


Features

Certified for use on vessels over 20 meters (65.6 ft.) in length
USCG Certified 3nm/6nm
Flex Mount system allows the same light to be used for both single and double mount applications
Powder coated aluminum, high strength support structure holds two individual lights and mounts to the deck


Benefits

Easy to mount
Individual lights can be replaced if damaged while in service
Significantly reduces cost of repairing a light
LED lights offers longer life, lower energy draw, less heat and no bulb changes
Technical Information
L.E.D. Bulb: Operates on 12/24 VDC or 120/240 VAC Systems
No user serviceable parts
Screw Size: 1/4"
Height Overall: 13-1/4"
Height Lens: 3-1/2" Bottom, 10-3/4" Top
Ordering Information
| Description | Visibility Arc | Visibility Miles | 120/240 VAC Black Polymer Std. Pkg. 1 Pc. | 12/24 VDC Black Polymer Std. Pkg. 1 Pc. | Ship Wt. Carton Lbs. Standard Pkg. |
| --- | --- | --- | --- | --- | --- |
| White Masthead Light | 225° | 6 | 1478000BLK | 1478001BLK | 3.1 |
Instructions & Resources
Fig. 1478 Installation Instructions
Do you still have a question about the
Figure No. 1478 Flex Mount System LED Single Replacement Navigation Lights
that wasn't answered on this page? Contact us!
View Contact Information