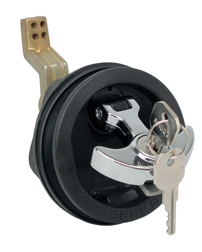 Surface Mount Lock for Smooth and Carpeted Surfaces
[Fig. No. 1085]
Note: Selected figure numbers of this product are a part of our Perko Legacy product program.
Perko Legacy products are no longer in regular production. Please contact our sales department for availability.
Please check the Ordering Information below. This icon ( ) denotes a Legacy product.
Product Description
Unsecured valuables have a tendency to walk off by themselves. To keep items safe, Perko offers the 1085 series Surface Mount Lock. Perfect for hatches and storage compartments, the lock is ideal for use on both smooth and carpeted surfaces.

Whether replacing an existing lock handle or upgrading from a non-locking system, the surface mount units are quick and easy to install. Our instructions are clearly illustrated and come with a handy cutout template.

The attractive and sturdy lock is available with a choice of a black, white or gray polymer body with a chrome-plated, zinc alloy "T" handle and a stainless steel stem. To fit any application, various models are available featuring different configurations and lengths of cam bars.

Designed to be mounted through surfaces from 1/8" to 3/4" thick, the lock requires a 2-1/2" cutout hole. The cam bars are adjustable to a maximum 3" from the mounting surface.

Black, White, Ivory (New Color) or Gray (Legacy) Polymer Body
Chrome Plated Zinc Alloy or Polymer "T" Handle
Stainless Steel Stem
Gasket Included for Smooth Surface Applications
Technical Information
Mounting Hole Diameter: 2-1/2"
Face Plate Diameter: 3"
For Mounting Surfaces: 1/8" to 3/4"