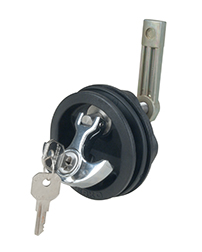 T Handle Lock with Draw-Down Cam Bar
New
[Fig. No. 1086]
Product Description
Polymer Body with Zinc Alloy "T" Handle and Stainless Steel Stem
Black, White or Ivory Body with Chrome Plated "T" Handle
Gasket Included for Smooth Surface Applications
Handle does not lay flat in open, unlocked position
Technical Information
Mounting Hole Diameter: 2-1/2"
Face Plate Diameter: 3"
For Mounting Surfaces: 1/8" to 3/4"
Draw-Down: 1/4"
Draw-Down Feature
A With the lock in the open position the cam bar is fully extended.
B As the "T" handle moves to the closed position, the cam bar begins to retract.
C When the "T" handle is fully closed, the cam bar pulls up on mounting surface creating a snug fit.