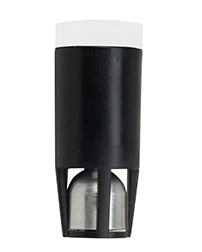 In-line Vent Hose Surge Protector
[Fig. No. 0553]
Product Description
Black and White Polymer Valve
Aluminum Surge Float
Prevents fuel surges and back splash during re-fueling
Fits in 5/8" fuel hose vent line
Perko's patent pending in-line surge protector functions both as a fill limit valve assisting in pump auto shut-off and a check valve to prevent wellback in the vent line. Consult Perko for details on how to install the surge protector as a replacement for a fill limit valve.

NOTE: Must be installed within 45° of vertical if vented.
Fourth image above illustrates the placement of the surge protector in the vent line.
Ordering Information
| Hose Connection | Length Inches | Dealer Pkg. 5 Pcs. 1 per Card | OEM Bulk Pkg. 25 Pcs. | Carton Ship Wt. Lbs. DP/OEM Bulk |
| --- | --- | --- | --- | --- |
| 5/8 | 1-9/16 | 0553DP0 | 0553000 | 0.8/2.0 |
Instructions & Resources
Fig. 0553 Installation Instructions
Do you still have a question about the
Figure No. 0553 In-line Vent Hose Surge Protector
that wasn't answered on this page? Contact us!
View Contact Information