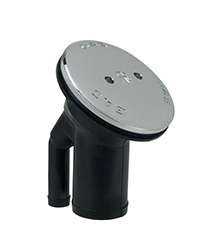 Vented Fill for 1-1/2" Hose - Angled Neck
[Fig. No. 0540]
Product Description
Angled Neck
Chrome Plated Bronze Cap
Black Polymer Body
Stainless Steel Bead Chain
Integral Tank Vent with Flame Arrestor and Anti Surge Valve
Ground Wire Not Required
Technical Information
For Hose Size: 1-1/2"
For Vent Hose: 5/8"
O.D. Flange: 3-3/8"
Mounting Hole Diameter: 2-1/8"
Neck Length: 2-7/16"
Screw Size: #8
Mounting Ring for Vented Fills
The use of these heightening rings is required in any application where water might be splashed around a vented fill. The ring raises the opening between the fuel cap and fill an additional 3/8" above the deck surface, thereby reducing the likelihood that splashed water will enter the fuel system through the breathing vent. The split version of the ring is designed for aftermarket use on existing installations. In most cases, it allows the ring to be added without disconnecting fuel and vent hoses from the fill. For new OEM installations, rings are supplied without the split since they can be installed before hoses are connected to the fill.
NOTE: The ring will not prevent water from entering the system if the cap becomes submerged or substantially flooded. If this situation exists, the fill/vent must be moved to a dry location or replaced with a sealed cap and a separate vent located elsewhere.
Retail Pkg.
0540DPRBLK
OEM Bulk Pkg.
0540RNGBLK
Ordering Information
| Marked For | Dealer Pkg. 5 Pcs. 1 Pc. per Card | OEM Bulk Pkg. 25 Pcs. | Ship Wt. Carton Lbs. DP/OEM Bulk |
| --- | --- | --- | --- |
| Gas | 0540DPGCHR* | 0540G00CHR* | 4.2/15.7 |
| Diesel | 0540DPDCHR** | 0540D00CHR** | 4.2/15.1 |
| Water | 0540DPWCHR | 0540W00CHR | 4.2/15.1 |
Instructions & Resources
Fig. 0540 Installation Instructions
Fig. 0540 CE Certificate
Fig. 0540 Patent Information
View Fig. 0540 in our Print Catalog
Still have a question about the
Figure No. 0540 Vented Fill for 1-1/2" Hose - Angled Neck
that wasn't answered on this page? Contact us!
View Contact Information