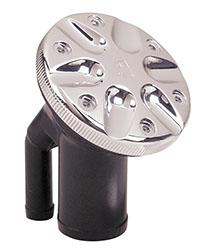 Sealed Ratcheting Cap Fills with Pressure Relief for 1-1/2" Hose - Angled Neck
[Fig. No. 0790]
Product Description
Chrome Plated Bronze Cap
Black Polymer Body
EPA Compliant Sealed Cap with Pressure Relief Valve
This fill meets the new CARB and EPA requirements of U.S.C.G. Safety Standards (July 31, 2011) for 40 CFR parts 9, 60, 80 et al. Control of Diurnal Emissions from Nonroad Spark-Ignition Engines and Equipment.
Technical Information
For Hose Size: 1-1/2"
For Vent Size: 5/8"
O.D. Flange: 3-3/8"
Neck Length: 2-7/16"
Mounting Hole Diameter: 2-1/8"
Screw Size: #8
Fill Tether Overview
Perko's Bulk Packed EPA style fills come with tethers attached to the fill body, but not to the cap. This eliminates the need to unscrew the tether before pressure testing a boat. Fills are packed with caps installed. Tethers are fixed in the fill bodies but not attached to the cap. Install the fill as indicated in the installation instructions.
Diagram 1: Once the pressure test is done, pull the tether and attachment ring out from the fill body and snap onto the cap by hand.
Diagram 2: The ring snaps over the ridge as indicated.
Diagram 3: Once attached, the ring allows the cap to turn freely without binding or twisting the tether.
Ordering Information
| Dealer Pkg. - 5 Cards 1 Pc. per Card | Catalog No. OEM Bulk Pkg. - 25 Pcs. | Shipping Weight Lbs. DP/OEM Bulk |
| --- | --- | --- |
| 0790DPGCHR | 0790G00CHR | 4.5/18.5 |
Instructions & Resources
Fig. 0790 Installation Instructions
View Fig. 0790 in our Print Catalog
Spare Parts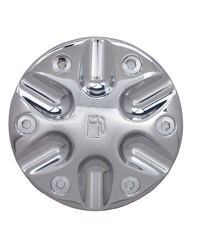 Spare Sealed Chrome Gas Cap with Resin Insert (Dealer Package - 5 Pieces - 1 Piece per Card): 0790DPG99A
Still have a question about the
Figure No. 0790 Sealed Ratcheting Cap Fills with Pressure Relief for 1-1/2" Hose - Angled Neck
that wasn't answered on this page? Contact us!
View Contact Information