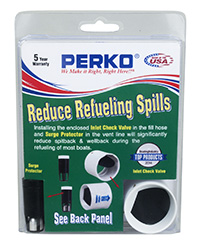 Inlet Check Valve / Surge Protector Combo Pack
[Fig. No. 0030DP0005]
Product Description
This combo pack includes a Inlet Check Valve (Fig. 0635) and a Surge Protector (Fig. 0553)

Installing an Inlet Check Valve in the fill hose and a Surge Protector in the vent line can significantly reduce spitback & wellback during the refueling of most boats.

Fig. 0635 Inlet Check Valve installs in the fill hose near the fuel tank to reduce wellback through the fill hose.

Fig. 0553 Surge Protector installs in the vent line near the fuel fill or a gas tank to aid in pump shutoff and reduce spitback & wellback through the vent line.

Features

Reduces fuel surges and backsplash during refueling
Reduces leak points
For use with 1-1/2" fill hose and 5/8" vent hose
OEM and Aftermarket
Can be used with aluminum or plastic fuel tanks
Aids in automatic pump shutoff
Allows unobstructed airflow at fill rates up to 18 gpm


Easy to Install

Loosen hose clamps
Remove hose
Insert valve in hose
Re-install hose & tighten clamps
Check for leaks
Package Contents
Fig. 0635 Inlet Check Valve
Installs in the fill hose near the fuel tank to reduce wellback through the fill hose.
Fig. 0553 Surge Protector
Installs in the vent line near the fuel fill or a gas tank vent to aid in pump shutoff and reduce spitback & wellback through the vent line.
Instructions & Resources
View Fig. 0030DP0005 in our Print Catalog