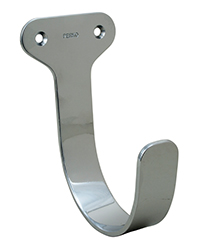 Ring Buoy Holder
[Fig. No. 1017]
Note: Selected figure numbers of this product are a part of our Perko Legacy program.
Perko Legacy products are no longer in regular production. Please contact our sales department for availability.
Please check the Ordering Information below. This icon ( ) denotes a Legacy product.
Product Description
Chrome Plated Brass or Plain Brass
Technical Information
Width Mounting Plate: 3"
Height Overall: 4-1/2"
Screw Size: #8
Ordering Information
| Chrome Plated Brass Dealer Pkg. - 5 Cards 1 Pc. per Card | Plain Brass Standard Pkg. - 5 Pcs. | Ship Wt. Carton Lbs. DP/Std. Pkg. |
| --- | --- | --- |
| 1017DP0CHR | 1017000PLB ( Legacy Item) | 2.9/2.4 |
Instructions & Resources
View Fig. 1017 in our Print Catalog
Spare Parts
No spare parts are available for this product
Certifications
No certifications are associated with this product
Still have a question about the
Figure No. 1017 Ring Buoy Holder
that wasn't answered on this page? Contact us!
View Contact Information