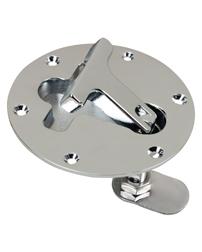 Round Flange Flush Hatch Dog
[Fig. No. 0778]
Note: This is a Perko Legacy product.
Perko Legacy products are no longer in regular production. Please contact our sales department for availability.
Product Description
Chrome Plated Bronze
2 Options: Flange with Visible Mounting Holes or Smooth Flange with Concealed Fasteners
Stainless Steel Lock Nuts
Flush Strike
O-Ring Seals for Water Resistance
Does Not Rattle when "Dogged" Down
For Securely "Dogging" (Fastening) Deck Hatches
Technical Information
Max. Hatch Thickness: 2"
Adjustment Cam Bar: 1-1/4" to 2"
Dimensions Face Plate: 4-3/8"
Screw Size: #8
Ordering Information
Type
Cam Bar Length Inches
Standard Pkg. - 1 Pc.
Ship. Wt. Carton Lbs. Std. Pkg.
Visible Mounting Holes
Latch
1-1/2
0778001CHR
1.4
Latch
3
0778002CHR
1.5
Lock
1-1/2
0778L01CHR
1.6
Lock
3
0778L02CHR
1.7
Concealed Fasteners
Latch
1-1/2
0778F01CHR
1.6
Latch
3
0778F02CHR
1.6
Lock
1-1/2
0778FL1CHR
1.9
Lock
3
0778FL2CHR
1.9
Do you still have a question about the
Figure No. 0778 Round Flange Flush Hatch Dog
that wasn't answered on this page? Contact us!
View Contact Information