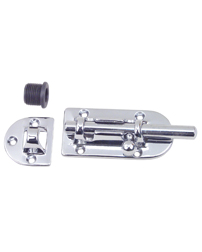 Barrel Bolt
[Fig. No. 0947]
Product Description
Chrome Plated Bronze Body & High Impact Black Nylon Bulkhead Keeper
3/8" Diameter Bolt
Bulkhead Keeper Easily Installs in a 5/8" Hole
Includes Friction Pad to Eliminate Rattle and Provide Smooth Operation
Dealer Package Includes Both Styles of Keepers.

Technical Information
Screw Size: #6

Custom barrel bolt lengths available. (as pictured above)

Please contact the factory for OEM applications.