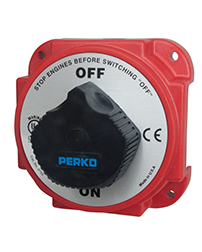 Heavy Duty Battery Disconnect Switch with Alternator Field Disconnect
[Fig. No. 9703]
Product Description
Perko 9703 battery On-Off switches are among the most popular heavy duty battery switches ever produced. Their use of the traditional Perko bolt circle makes for easy installation, whether new or as a replacement. These switches can be mounted in numerous locations. And as ignition protected switches, they can be installed in the engine rooms of gasoline powered boats.

These heavy duty switches are rated at up to 450 amps continuous and 1,200 amps intermittent (see specifications). An alternator field disconnect feature is standard.

High conductivity studs are long enough to handle more than 1 cable and strong enough for torque needed for secure connections.

Battery disconnect switches help manage the overall use of electrical power on-board. They are used to connect or disconnect electrical devices from the electrical system. They help to prevent battery drain during periods of inactivity. They allow for a quick and easy way to shut down the entire electrical system in an emergency. An optional key lock helps to prevent unauthorized use of the vessel.

Like all Perko products, these time-proven switches are made in the USA.
Technical Information
Diameter: 5-1/4 square inches
Depth: 3-3/8"
Polycarbonate Body with Brass Terminals
Ignition Protected
For use with 6 to 50 Volt Marine Electrical Systems
Capacity: 450 Amps Continuous, 1200 Amps Intermittent (15 Seconds On, 5 Minutes Off)
Terminal Stud Size: 1/2"
Screw Size: #10