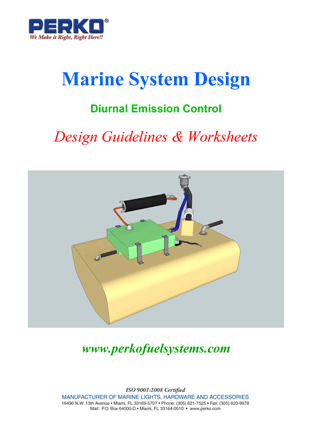 August 30, 2010 4:22 pm EST

After successfully conducting training seminars across the country on the new diurnal emissions requirements, Perko now offers an informative booklet to aid their customers through the fuel system design process. This practical guide takes readers step-by-step through the various stages of construction to ensure they comply with updated regulations.
Providing a compressive resource, the in-depth booklet includes a helpful worksheet section. These useful forms make organizing the process simple regardless of whether builders decide to design the systems in-house or work with system integrators.
Copies of this educational booklet will be available at the International Boatbuilders' Exhibition and Conference (IBEX) or by contacting Perko directly.
Established in 1907, Perko manufactures superior marine lights, hardware and other accessories. More information on the company's new Evaporative Emissions Control Systems, emissions regulations, requirements and solutions can be found at www.perkofuelsystems.com.