Perko introduces swivel-style fuel tank valves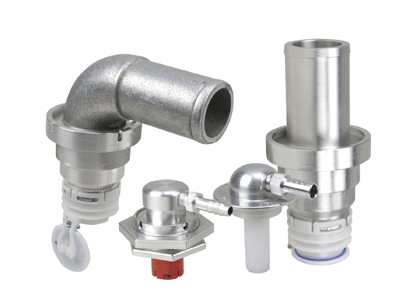 Ensuring proper alignment when installing fuel tank valves can be a tedious business. Perko has greatly simplified the process easier by adding a swivel feature to its Tank Vent Valves (TVVs), Fill Limit Vent Valves (FLVVs) and Inlet Check Valves(ICVs). All meet upcoming EPA emissions requirements.
These valve assemblies rely on a Viton double O-ring seal and stainless retainer for their versatility. For long wear, receivers and valve bodies are constructed of fire-tested, marine-grade aluminum. For extra strength, receivers are welded to aluminum tanks or molded into plastic tanks. The valve assembly is then simply pushed into the receiver and held in place with a stainless snap ring.
Once installed, the hose barbs rotate freely, eliminating orientation and torque issues. These valves are easily removed and inspected with tools as simple as a pocket knife.
Perko has been manufacturing state-of-the-art fuel system components for boat owners and builders worldwide since 1936. It offers a wide range of canisters, fuel system valves, fills, vents and caps. More information on Perko's Evaporative Emissions Control Systems, emissions regulations and solutions can be found at www.perkofuelsystems.com.