Smaller tank vent valves add versatility, cut cost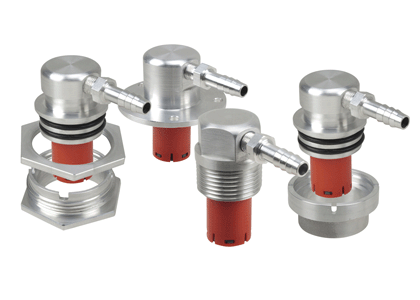 Small is beautiful when it comes to fuel system components. Providing the same venting capacity as larger units, Perko introduces new, smaller tank vent valves. Almost half the size of previous models, the valves are easier and less expensive to mount, yet breathe just as well.
Three versions are available: flanged, threaded and swivel. Flanged valves are small enough to mount using the same flange diameter and SAE bolt circle as the senders boatbuilders have been using for years. Threaded versions need only a 1" NPT receiver. New swivel models, for aluminum or plastic tanks, rotate freely and seal with a double O-ring. This eliminates mounting orientation and hose torque issues.
The valves' reduced diameter results in a smaller tank cutout, and their lower height requires less clearance space between the fuel tank and deck. With the valves' shut-off point exactly at the top of the tank, 100% of the tank's airspace is available for venting, increasing tank capacity.
Perko has been manufacturing state-of-the-art fuel system components for boat owners and builders worldwide since 1936. It offers a wide range of canisters, fuel system valves, fills, vents and caps. More information on Perko's Evaporative Emissions Control Systems, emissions regulations, requirements and solutions can be found at www.perkofuelsystems.com.