New water strainer supplies economical solution
January 11, 2011 12:47 pm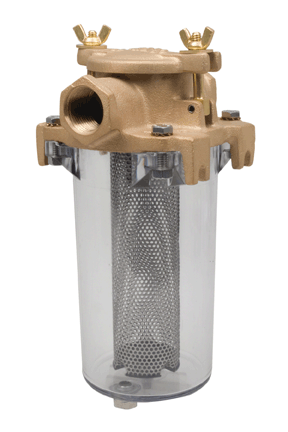 A critical component of any engine or generator cooling system is a raw water strainer. Adding to its large boat line, Perko introduces the 0443 Lightweight Intake Water Strainer.
Perko's lightest water strainer, the versatile 0443 is constructed from cast bronze with a clear polymer body. Designed for easy installation, it features mounting lugs cast into both sides for universal fitting.
Hinged lugs in the cover permit simple removal for cleaning of the strainer basket. Made of 316 stainless steel, the basket minimizes electrolysis. With screen holes 0.079" in diameter, the Lightweight Intake Water Strainer provides 47% open area, which is among the highest in the industry for cylindrical models.
A drain plug in the bottom casting simplifies sediment removal and draining for winterizing. The reliable 0443 Lightweight Intake Water Strainer shares many replacement parts with other Perko strainers.
Perko has manufactured superior marine lights, hardware and other accessories for over 100 years. More information on Perko's Evaporative Emissions Control Systems, emissions regulations, requirements and solutions can be found at www.perkofuelsystems.com.