PERKO expands fuel system website
September 27, 2010 9:00 am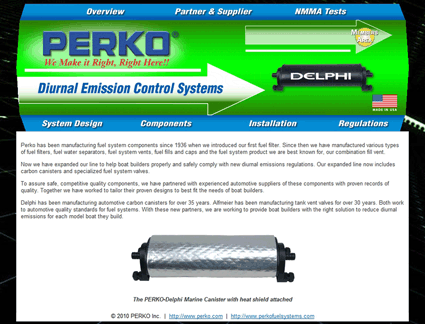 To provide the most up-to-date information on current EPA emissions regulations, Perko has expanded its website, www.perkofuelsystems.com. Scheduled to launch Monday, September 27, the revised site includes updated details on EPA compliant fuel system components for boatbuilders and designers.
Helping builders and customers meet these requirements, Perko's restructured website educates visitors about diurnal emission control systems with online instructional seminars, guidelines and worksheets that suggest various compliant solutions. Easy to navigate, the streamlined site links to system partners, the NMMA testing program and canister installation instructions. It features in-depth fuel system component descriptions, specifications, technical drawings, charts and detailed photographs.
Perko has been manufacturing state-of-the-art fuel system components for boat owners and builders worldwide since 1936. The company also produces superior marine lights, hardware and other accessories. It offers a wide range of canisters, fuel system valves, fills, vents and caps. For more information or to become registered for the site, please call 305-621-7525.