New pole light series features versatile base design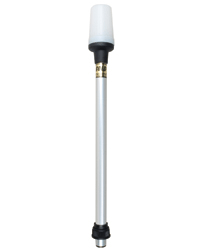 For years, owners of small, 10', 12' and 14' aluminum boats have struggled with traditional plug-in pole light bases. They're designed to mount on horizontal surfaces, which are virtually nonexistent in the layout of these compact metal craft. But, now there's a new option. Perko introduces its innovative 1131 Series removable plug-in pole lights.
The versatile 1131 Series is engineered specifically to mount on the side gunnels and consoles of small aluminum boats. Simple to install and wire, the streamlined lights are available in three convenient sizes: 24", 36" and 42".
Perko is the only manufacturer of marine grade navigation lights offering gold-plated contacts which provide superior corrosion resistance for an ultra-long service life. When not in use, the dependable lights can be easily stowed with Perko's 0477 pole clips, which can be mounted out of the way on the side of the boat.
Perko has manufactured high-quality marine lights, hardware and other accessories for over 100 years. To meet upcoming EPA regulations, the company also offers state-of-the-art evaporative emissions control systems, including canisters, fuel system valves, fills, vents and caps.