New white line lights blend in seamlessly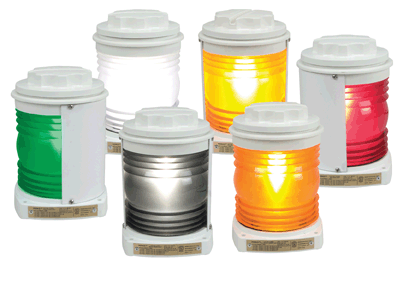 No longer do boatbuilders and owners have to settle for navigation lamps that clash with a vessel's white exterior. Perko's latest White Line Lights are constructed of heavy-duty white plastic. So, even when they're painted to perfectly match the white onboard, it's hardly noticeable if the color chips, providing a long-lasting, uniform appearance.
Designed for craft 65.6' to 164' in length, the White Line Lights are USCG certified for 2nm or 5nm. The lights measure 7-1/2" high and are available as Red and green side, white masthead and stern and yellow towing lamps, as well as all-round versions in white, red, green and yellow.
Easy to install with 1/4" screws, the durable White Line Lights are UL-and CE-certified and feature a pre-wired, double-contact socket and 3' of 16/3-SO cable. A watertight access cap makes rebulbing and cleaning easy. Bulbs are not included. White Line models are also available for boats under 65.6'.
For over 100 years, Perko has manufactured superior marine lights, hardware and other accessories. To meet upcoming EPA regulations, the company also offers state-of-the-art evaporative emissions control systems, including canisters, fuel system valves, fills, vents and caps.