Perko® Launches NEW LED Bi-Color Navigation Lights Meeting C-5 Regulations
April 24, 2023 8:00 am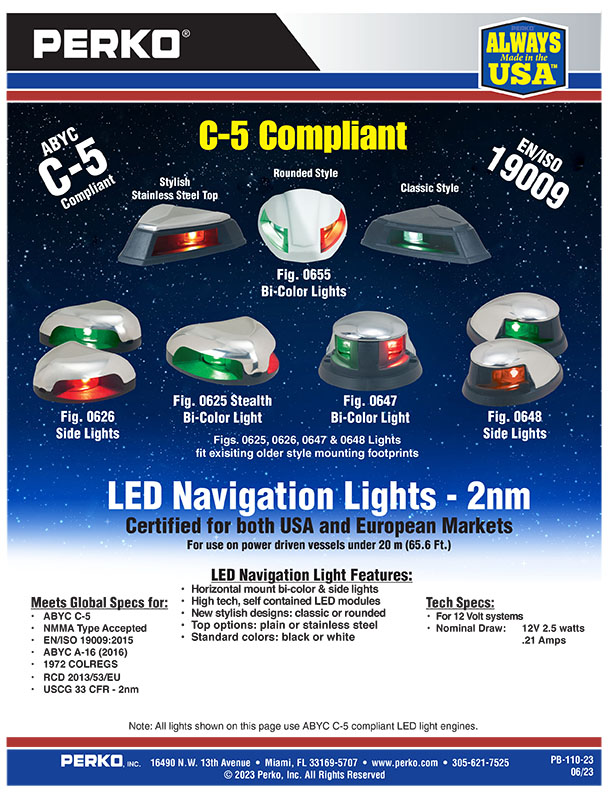 Miami, Florida - Perko® recently announced the new (C-5) Bi-color Navigation Lights for 2023 are now available for order. The new lights were designed to fit in the same space "envelope" as the older (non C-5) Perko lights. The lights meet the 2NM visibility requirement as well as comply with the new C-5 regulations that take effect in 2023, the regulation bring light intensity output consistency in line with similar European regulations.
The lights have been well received by OEM engineers, distributors, and end users that have been offered a preview of the new light products.
0625 and 0647 Benefits and Features Include:
• Long life LEDs with 20 year expiration rating.
• Similar "footprint" of older Perko lights allowing for easy upgrade.
• LED optics adjust based on pole mount angles
• Available in standard pole lengths from 24" to 60"
• Available in OEM boatbuilder configuration with traditional wire ends or with AMP® or Deutsch® connectors.
• Also available through marine equipment distributors and retail locations, in a retail package.
• Meets Global Specs for: ABYC C-5, NMMA Type Accepted, EN/ISO 19009:2015, ABYC A-16 (2016), 1972 COLREGS, RCD 2013/53/EU, USCG 33 CFR - 2nm
Contact Perko® for more information, where to buy, or samples for qualified OEM boat builders.
For more information contact your Perko® sales representative or marine equipment distributor, or email an inquiry to sales@perko.com.
www.perko.com