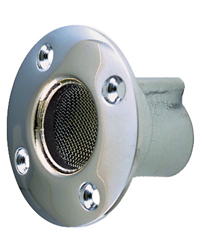 Gas Tank Vent
[Fig. No. 0505]
Product Description
Chrome Plated Cast Bronze
Removable 30 Mesh Stainless Steel Wire Screen Flame Arrestor (for use with gasoline applications)
Designed to meet the requirements of the National Fire Protection Association Booklet No. 302, Section No. 323 on vent pipe outlets. The 1/2 inch N.P.T. is off center to create a water baffle.
Technical Information
Ordering Information
Dealer Pkg
5 Pcs.
1 Pc. per Pkg.
OEM
Bulk Pkg.
50 Pcs.
Ship Wt.
Carton Lbs.
DP/OEM Bulk
0505DP0CHR
0505000CHR
2.5/10.8
Do you still have a question about the
Figure No. 0505 Gas Tank Vent
that wasn't answered on this page? Contact us!
View Contact Information