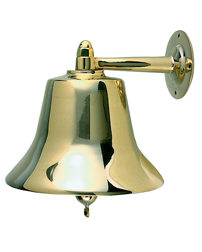 Click on any image above to enlarge
Product Description
Cast Bronze
Chrome Plated, Plain or Polished
Available in 12" or 14"
Heavy Weight
Fixed Mounting

This bell has been reviewed by the U.S. Coast Guard and comply with C.G. 169 Regulations for Sound Signal Appliances as required by Annex III Paragraph 2 of the '72 COLREGS.

This bell is for use on vessels of any length.
Technical Information
No technical information is available at this time
See ordering information below
Ordering Information
| Bottom Diameter Inches | Height Overall Inches | Plain Bronze Std. Pkg. 1 Pc. | Polished Bronze Std. Pkg. 1 Pc. | Chrome Plated Bronze Std. Pkg. 1 Pc. | Ship Wt. Carton Lbs. |
| --- | --- | --- | --- | --- | --- |
| 12 | 12 | 0158012PLB | 0158012POL | 0158012CHR | 37.0 |
| 14 | 14 | 0158014PLB | 0158014POL | 0158014CHR | 41.5 |